Interact members decorate Rose Parade float
When this year's colorful Rose Parade returned to Pasadena this year, one float in particular meant a lot to a handful of Burroughs students.
After a Covid-mandated hiatus in 2021, BHS Interact Club members eagerly pitched in to decorate the 2022 Rotary International float.
The students kicked off their winter break on Dec. 18 by traveling to Irwindale, where they joined other groups working on the floats.
The float's theme was "Changing Lives Through Education," which aligns to one of Rotary's seven areas of focus, Basic Education and Literacy.
The centerpiece of the float was a 16-foot-tall owl, representing both the spirit of self-improvement and Rotary's determination to make the opportunities of education available to everyone in every land.
Books, a quill pen, and a hybrid apple/globe symbolized the importance of education throughout the world.
Junior Kristy Shao had a great first-time experience with decorating the float.
"You get to talk to all these wonderful people and just hang out with friends for a day," said Shao. "Everyone there wants you to enjoy yourself and to enjoy the experience of decorating a float."
Each detail was crucial to building the float and could only be decorated with organic materials, such as flower petals, leaves, seeds, beans, and moss.
This required a lot of effort since paint or artificial materials were not allowed.
Float building is an opportunity for the Interact Club members to not only participate in an activity outside of Burroughs, but they have the opportunity to meet and 'interact' with other Club members.
This was Club Advisor Judy Dwyer's third time participating in float decorating.
"My favorite part is spending time with students outside the classroom, and getting to know students on a different level," said Dwyer.
Participating club members included Mahnoor Ahmad, Emma Kimbler, Kristy Shao, Alex Vargas, Manuel Rodriguez, Linda Moreno, Leilani Berry, and Max Pogge.
After working until sunset, the group went to a nearby food court in Pasadena, had a mini photoshoot at a humongous Christmas tree, and wrapped it up with some LA Boba.
Interact Club meets Tuesdays at lunch in Room M-41.
Leave a Comment
About the Contributor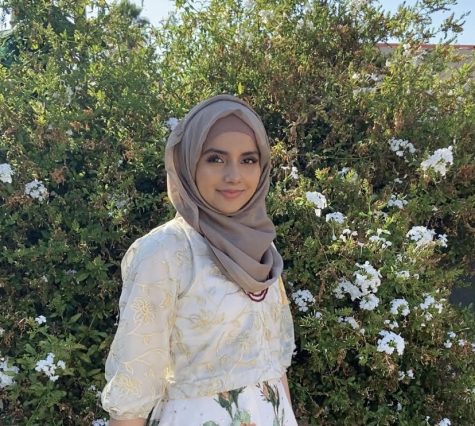 Mahnoor Ahmad, Editor-in-Chief
Mahnoor Ahmad is a senior at Burroughs High School and this is her fourth year writing for the Blockbuster. She's involved in activities such as Interact...