Annual coat collection underway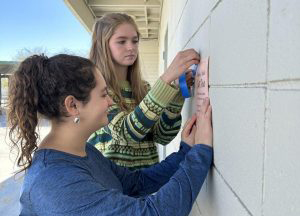 With a week off for Thanksgiving, students are likely to be sleeping in, enjoying time with family, and hopefully cleaning out their closets for the annual Friends of Rachel coat collection!
Each year the Friends of Rachel partners with the Salvation Army to directly help out families in need through a cold-weather clothing drive.
"The BHS coat drive has been hugely successful for many years and is well-known in the community, so let's continue that success!" urged Shari Rosenberg, the advisor for the Friends of Rachel Club.
Traditionally, the collection gets hundreds of donations in the form of hats, gloves, coats, and jackets. The donations go straight to the Salvation Army, which organizes a direct giveaway to people in need.
"I like to give this example, though it tugs at the heartstrings a little," said Rosenberg. "I have heard that local Santas have heard multiple times from children that they want a jacket for their older or younger sibling for Christmas. People take warm clothes for granted and if we were to look out at the campus on a cold day, we would see some kids without jackets because they don't have jackets. And from what I've been told, the need is growing."
The coat drive fulfills a crucial part of the club's mission, allowing students to actively help others through acts of kindness.
"When we find a problem, we as a club, as a community, or as an individual, should say, 'Hey, let's do something about it'," said Rosenberg.
Friends of Rachel club members take an active part in the coat collection by advertising and contributing. Members advertise at their parents' places of employment and around Burroughs High School with flyers. They also make an impact by bringing in donations of their own.
"People don't realize, especially in a small city like this, that there are those who aren't fortunate enough to buy a good coat that will last them a long time," said Friends of Rachel Treasurer Mikaella Juico, a junior. "Sadly, it's more expensive to be poor because buying cheap jackets, more often than not, doesn't brave the weather that Ridgecrest is prone to having."
Clubmembers are collecting the cold-weather items through Dec. 13.