Boys and Girls soccer season starts back up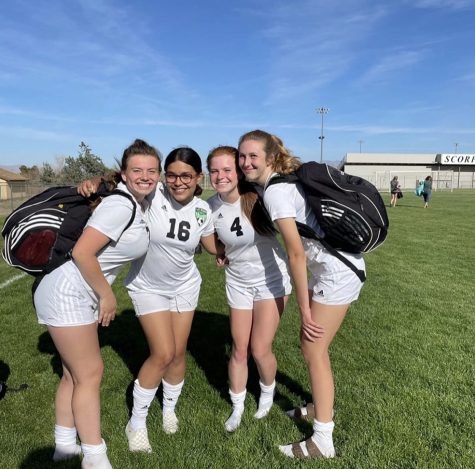 Since school went online in August, sports have been a toss up on whether seasons would happen at all due to COVID restrictions. Tryouts were held in late March for both teams as Coach Scott of the boys team and Coach Kelly of the girls team put together the best possible Varsity teams.
Following each teams first league games on April 6, both teams have lots of work ahead of them. However, the girls team is filled with experienced players such as Leah Tomlinson (junior) and Isabelle Roquemore (senior) who are ready to lead the team through the modified season.
On Thursday they had a 4-3 win over Hesperia with an outstanding hat trick from Roquemore. Roquemore even stepped up to the challenge of a penalty kick and saved the game for them.
On the boys side, captains Jason Irvin (junior) and Canon Rank (senior) are looking to prepare their young team of mostly freshmen and sophomores for the years ahead of them. Despite the loss for both teams, everyone is happy to be playing and optimistic for rest of the season despite the drawbacks.
We asked Irvin what he is looking to get out of this season:
"I am looking to play soccer in college so this year I am really trying to get some good video clips for coaches."
Thursday's home game for the boys resulted in a loss for the boys. However, Irvin was successful in putting a penalty kick in the net against Hesperia for their first goal of the season.
Their next games are on April 10 and 13 against Paraclete and Oak Hills accordingly. The boys team will be home against Hesperia and Paraclete. The boys and girls will be home against Paraclete. The girls will be away against Oak Hills and home for the boys.