Symphonic Band is breaking the silence on campus
Music lovers, former music students, and current Burroughs supporters can tune into the group's Virtual Homecoming via Zoom at 6 p.m.
Ever since the COVID-19 pandemic forced students, staff, and teachers to leave campus in March, everyone has been wondering when the transition back to in-person learning will be deemed safe. Now small groups of students from the Symphonic Band class are meeting in person to practice and perfect their performance. 
"Being able to play with people again has been an amazing experience," said junior Deanna Belt. "There is a sense of community in Band when everyone is playing together that you really can't get from playing alone in your room."
So far, only cohorts of 14 or fewer students are meeting to practice after school twice a week in addition to the distance learning class period in the morning. The band gathers on the basketball courts or Senior Stage outside and all students remain physically distanced. All students and adults present adhere to strict safety guidelines to ensure these music students can continue to perfect their sound. 
"The DL model is an extremely challenging format for any music ensemble," said music teacher Amber Petersen. "Having students together, even though it is a limited group, we are able to make music, work on problematic areas, and continue to improve our performance in real-time."
Without in-person rehearsals, all music classes are forced to work around the unavoidable technical difficulties and latency issues that make real-time collaborative music practice very difficult. Petersen has been able to compile individual students' recorded music into one piece with a software program called SmartMusic, but the process of doing so is long, complicated, and produces a result that simply does not compare to a band or orchestra playing together. 
"Within a performing ensemble, the majority of what we do is collaboration, in real time," said Petersen. "We listen to each other for tuning, timing, balance, blend, and musicality."
The opportunity to see and safely interact with peers again in person and make music all together has brought smiles to many faces and increased the musicians' enthusiasm.
"When I started going to the band meetings, I became more motivated to practice," said sophomore Meghan Albro. "Every time we meet, I feel like we improve by leaps and bounds. It is also nice to see my friends in person again!"
Among the students who have been able to attend rehearsals on campus, there is a general consensus that live, in-person practicing has done wonders for the morale of the students and sound of the band and can never be effectively replaced by any distance learning format. 
"Band is a group activity, so much can go wrong trying to have everyone record their part, submit it, and then have it all mixed together," said senior Colin Potten. "You'll have students who max out their microphones, out of tune, off tempo, off beat. Nothing will beat having in-person rehearsal."
Unfortunately, the vast majority of music students from all levels of band and orchestra are still not able to rehearse in person as a group, but those who have been taking advantage of the opportunity are enjoying and benefiting from it. 
"There is something about being able to play with and hear your peers that makes band so special, and a lot of that is lost with online rehearsals," said Belt. "However, I also feel that while we cannot all meet together and rehearse, Zoom rehearsals are also important. They give us a chance to learn songs and continue improving on our instruments."
"I am greatly anticipating when I can meet in-person with all of my students and share the music making process in a way that yields the strongest growth and edification!" said Petersen.
For now, music lovers, former music students, and current Burroughs supporters can tune into the group's Virtual Homecoming via Zoom at 6 p.m.
Leave a Comment
About the Contributor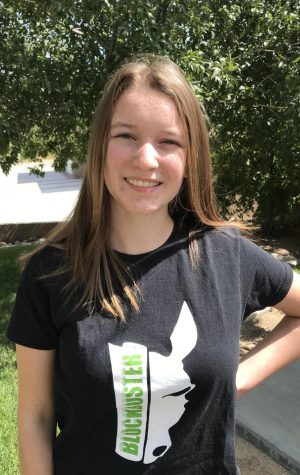 Annika Houck, Editor-in-Chief
Annika is a senior and has just begun her fourth year on the Blockbuster staff. She is enthusiastic about her academic career and has been taking college...