Interact Club fundraises for the Walk to End Alzheimer's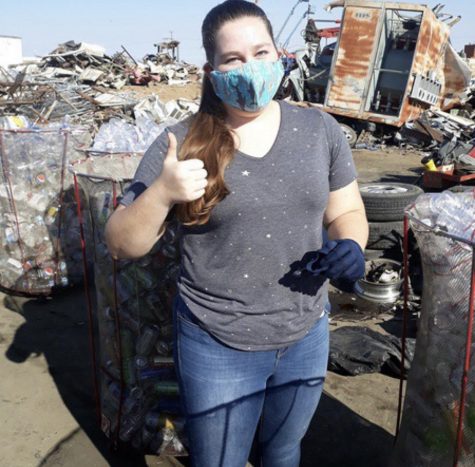 With COVID-19 making most forms of community service difficult to carry out, Burroughs Interact Club members have been searching for ways to help out the community while trying to stay safe. They decided to continue to participate in the annual Alzheimer's Walk and found a way to raise funds with a pandemic-friendly activity.
Club members decided to collect bottles and cans for a CRV Drive Collection. During the week of Oct. 10, members left flyers on their neighbors' doorsteps and collected cans the following Saturday. Club Vice President Kylie Champion, a senior, was pleased with the $132 they raised just from recycling cans and bottles.
"The CRV collection went really well and we had quite a bit of participation from our community!" said Champion.
BHS Interact members also worked with Interact Club members from Immanuel to raise money online. They had encouraged their family members, aunts, uncles and friends to donate. The club's goal was to raise at least $250. Their parent organization, the Rotary Club of Ridgecrest, promised to match their donations up to that amount. In total, Burroughs' and Immanuel's Interact Clubs raised $717. These funds will go towards researching methods of prevention, treatment, and ultimately, a cure.
Even though club President Elliana Tsang, a senior, does not have a direct connection with the Alzheimer's Association, she was willing to raise money to help out. 
"What really solidified my support was talking to one of the chair people over the summer," said Tsang. "She informed me that the Alzheimer's Association supports caregivers of all types; most of the funds go to the local community of caregivers and gives them the resources to continue providing high quality support even in times like these." 
BHS Interact Club's Rotary representative and adviser Cheryl St. Amand was impressed with the fundraising ideas the club came up with. 
"They are very innovative during this time because not only are they asking for sponsors for the Alzheimer's Walk, but also participating in the can and bottle collection," said Amand.
Amand lost her mother due to Alzheimer's disease and thinks the association is a wonderful way to help out people who are affected. 
"I can't say enough about the Alzheimer's Association," said Amand. "The biggest message that needs to get out is that they have so many resources to provide help," said Amand.  
This year, the Alzheimer's Walk didn't only take place at Leroy Jackson Park, its typical site. The community can participate everywhere—on the sidewalk, track and trail. Participants had the option to follow a virtual path through their neighborhood with the Alzheimer's Walk app, add stickers to their photos, and track their steps to add to the total number of miles walked around the country. Champion had walked a couple miles with her family, and Tsang also walking around neighborhoods. 
"In my eyes, the Alzheimer's Walk was like a mini celebration for all the funds we have brought in!" said Tsang.