Bradford's dream becomes a lasting legacy
New murals grace Burroughs campus.
A burro silhouetted against a brilliant sky. Our kicking burro logo. A reminder of our history and pride.
These eye-catching visuals are highlighted in three new murals which now grace the Burroughs campus, thanks to the vision of last year's ASB President Renee Bradford.
"The murals were all Renee's brain child from the beginning and her dream," said ASB Advisor Laura Larson. "Her goal was to have a mural down at the football field, so that is where the whole process started."
"I love watching sunrises and sunsets, so when I started thinking about ideas for a mural, it was one of the first things that came to mind," said Bradford, who is now a freshman at Cal Poly San Luis Obispo. That idea soon sparked a few other ideas.
"The sunset mural was originally was going on the football field, but because of all the sports and graduation down there, school administrators wanted a mural that reflected school spirit," said Larson. "That is when we started looking around campus for a place for the sunset mural.  We also noticed that the mural on the gym badly needed to be redone."
The custom-made artwork was done by an artist who works with Murals for Schools. The process took a small crew three days to complete. While here, they also added letters to each hall to help students navigate the campus more easily.
"The hardest part was getting the mural company to design murals that embodied what Mrs. Cope, Ms. Larson, Mrs. Lazaro, and I all had in mind," said Bradford, who nevertheless said she was pleased with the results.
"I am really happy with how the murals turned out," said Bradford. "The one on the gym is so big and full. The one on the Multi-use Building is my personal favorite because I love Ridgecrest sunsets and sunrises."
The murals were funded through an account called Due to Student Funds. The student body approved the measure through an online vote last spring.
"Money from this fund has to be spent on things for the whole school and voted on by the whole school," said Larson.
With the murals now in place, students have one more thing to look forward to when they return to campus.
Leave a Comment
About the Contributor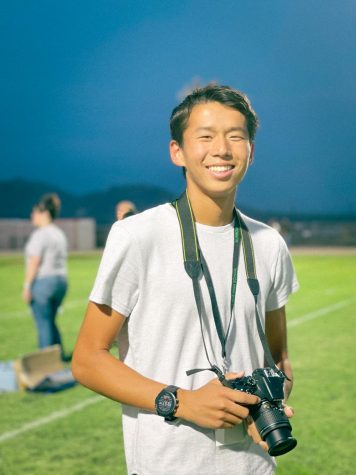 ZJ Hoffmann, Photo Editor
ZJ Hoffmann is a senior at Burroughs High School. This is his second year with the Blockbuster Blast and as photo editor. ZJ is involved with Varsity Cross...