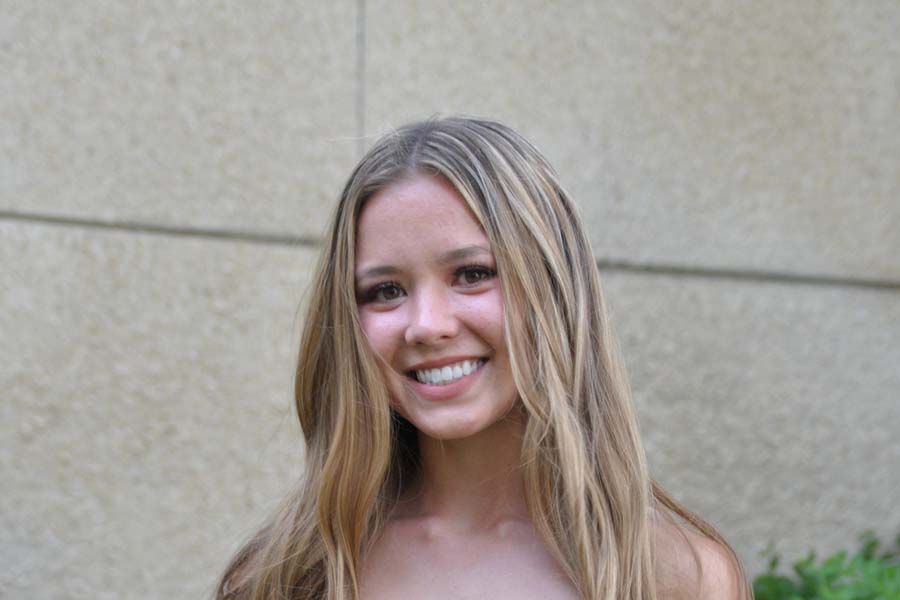 Madison Johnson
What's your favorite memory at BHS?
Our Volleyball game against Hesperia. We won after five matches and the energy in the gym was electric; hands down, it was the most intense game and the best I've ever played.
If you were an animal in a forest, what animal would you be? Why? 
A dolphin because I don't do the woods.
If a forest fairy granted you one wish, what would it be?
To bless all the children in the world with a loving name and a happy childhood.
Describe your Senior Year in three words.
Exciting, stressful, and funny.
If you were stuck in a forest, what three things would you bring with you?
My wardrobe (if I'm stuck the least I can do is still be stylish), my phone (so I can keep up with my Wordle streak), and Zoe Stanford because she'd find a way to put a positive spin on things.
What magical power do you wish you could have? Why?
I wish I could snap my fingers and be ready for the day because firstly, I could sleep in, secondly I would save time and lastly I would never be late to English (sorry, Ms. Burgess, but I've gotten better, you have to admit).
Snow White already knows Dopey, Bashful, Grumpy, Sleepy, Sneezy, Doc, and Happy. If you were her eighth dwarf, who would you be? Why?
Sparkly. I wasn't president of the Sparkle Club in fourth grade for nothing.
If a tree falls in a forest and no one is there to hear it, does it make a sound? Explain.
I feel that the tree would be better able to answer this question.
Who's your fairy godmother?
Ms. Larson because if not, and I quote, "I would cry until spring break is over lol".
What is your "happily ever after?"
The year is 2070. Crocs are eradicated. Avery and I shoot hoops on the beach once a week. Logan and I own our dream mansion with a manatee tank and an indoor shopping mall.
 Who's at your side for your forest adventure?
Olivia, Megan, and Logan. We're a packaged deal. *hair flips*
What's on your playlist for your forest adventure?
"Out of the Woods" by Taylor Swift. The chorus would express my thoughts exactly.