Art students get in line with creativity
Students in teacher Tristan Kratz's Art 1 class showcase their skills in a striking display of self portraiture.
The artistic talent at Burroughs is really getting out of line– both literally and figuratively. Art teacher Tristan Kratz's Art 1 class started their year with a basic assignment to study the Seven Elements of Art and Design yielding results that were far beyond impressive.
It was a simplistic assignment: create a self portrait using lines.
"The goal for this assignment was two-fold: begin to get a feel for the students' current basic skill level," Kratz says. "Creating a self portrait always reveals an aspect of the artist that we, the viewer, are surprised to see because of the artist's choice of focus, materials and scale."
Each piece is composed of different lines than more commonly used.
"This self-portrait that uses contour lines to develop and articulate the face, is a simple and effective way to introduce students to one of the most basic and yet powerful elements of visual art: LINE," Kratz says.
The students' hard work is evident in these pieces, and many of the drawings are now displayed in the front office.
What had started out as a simple assignment to test the waters of skill-gauging for the class became an exciting catalyst for future projects. Kratz expresses her enthusiasm toward the results of the project.
"Each portrait is so unique, intriguing and beautiful!" said Kratz. "If this is the baseline of this group of students' skill level, the projects they create for the rest of this semester are going to be awesome."
Senior Grace Lormand comments on her artwork and the experience of creating the piece, one of the highlighted student pieces.
"I've always been into art," says Lormand. "Art 1 has been super enjoyable, I've learned a lot about lots of different functions of art, as well as created some pretty cool pieces. Having a class dedicated to creating artwork is a blessing."
It's a good experience to be working and creating with lines that become something much more tangible.
"I have experimented with this contour-line-drawing art before but have never done something like this," says junior Alex Vargas. "Each project we have been working on has all revolved around certain aspects of art. Though I believe there's room for improvement in mine, I've been learning from and enjoying them all."
New projects may be lining up but the year definitely kicked off with a good start. The line project established foundations and skills by allowing students a chance to express themselves and how they view themselves.
"Some things that the artist might not have predicted, reveal themselves during the process and in the finished product," Kratz says. "It was also just so nice to see what my students look like without their mask."
Leave a Comment
About the Contributor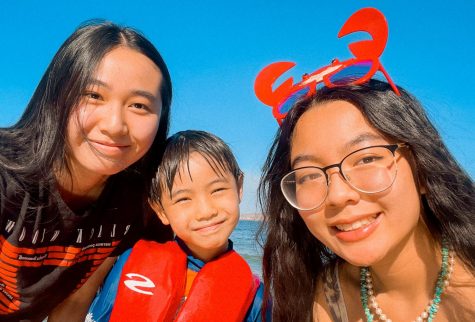 Rachel Huynh, Art Editor
Rachel Huynh, a senior at Burroughs, is a new member of the Blockbuster staff. In school, she tries her best to be involved with club and social activities,...