Programs streamline instruction as musicians return
Joining Burroughs Teacher Amber Petersen in the music program this year is newly-named Band Director Brian Cosner.
Cosner, who previously taught RSP, will concentrate on the band and its feeder program at James Monroe Middle School, allowing Peterson to concentrate on Concert Choir and Orchestra at Burroughs and a sixth-grade General Music elective at Monroe.
"I think that with the new structure of specialists teaching to their strongest skill sets and being a part of our school's feeder program, we will naturally retain students and help build our ensembles," said Petersen.
Strengthening the groups after the challenges of distance learning is a priority for both programs. Since the days of virtual concerts and minimal-contact education, the music department is taking strides to make up for the invaluable experience of playing in a formal setting with peers.
"As an ensemble, the sum of our product is stronger than our individual parts," said Petersen. "The drastic difference between what we are achieving this year together, compared to that of last year's virtual performances, is huge."
For Cosner, the attempt to return to normalcy began this summer with the BHS Band Camp a few weeks before school to ensure Burroughs band students were back and knee-deep in music again.
"It's been almost two years since many students have been in an in-person band, so it's been a crazy, fun, and productive few weeks with lots of learning – for both students and myself," said Cosner. "There's something about creating music with others and coming together as a group that is irreplaceable and impossible to do in a digital environment."
Playing together under COVID-19 protocols nevertheless presents some challenges.
"We're making sure first and foremost that students can play together safely, so there are a lot of precautions we are taking in light of COVID-19," said Cosner. These precautions include practicing outside.
Senior Drum Captain Lars Bartels noted that the performing groups are small but determined.
"It is still going well and we have treated the distance learning as a reset," Bartels said. "It helped us rethink our focuses and, overall, set new foundations for a better music department."
According to Petersen, the program has two new focuses.
"The first is to broaden the cultural scope of our music study," said Peterson. "We generally study the Western European musical canon that is well established (read long-dead composers).  I am having the students choose a culture that they find relevant and research folk songs of that culture." The results will be featured in a "Culture Fest" event scheduled for late November.
"We will also be recording a concert this fall that will be shared with the elementary and middle schools in hopes of sharing what we're working on and building excitement about the music programs," said Peterson. "These recordings will be done during our classes and shared via YouTube links, so we are taking advantage of technologies that were underutilized in the recent past."
In the meantime, the band is busily sharing its talents at several activities, including home football games, a before-school pep rally, the Parade of 1000 Flags, and a ribbon-cutting ceremony for Grocery Outlet.
Leave a Comment
About the Writer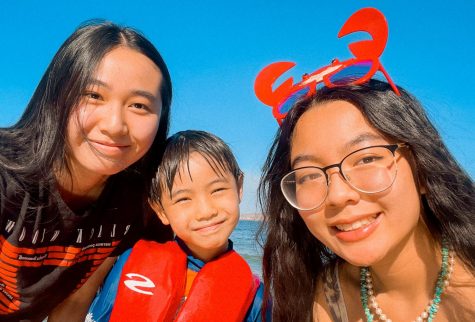 Rachel Huynh, Art Editor
Rachel Huynh, a senior at Burroughs, is a new member of the Blockbuster staff. In school, she tries her best to be involved with club and social activities,...