The Library is open!
After a year spent virtually empty except for bags full of books and supplies for distance-learning students, the Burroughs library has eagerly re-opened its doors with a new librarian and the goal of bringing out the best in Burroughs students.
Erin Austin, whom many students will recognize as a freshman, sophomore, and senior English teacher, is joining Library Clerk Janna Pearce in the library this year as a credentialed teacher librarian.  Austin, who will continue teaching one period of English, said she is looking forward to seeing familiar faces and creating an inviting environment for everyone to enjoy.
"I love the different atmosphere and getting to interact with all students rather than just the ones in my classroom," said Austin.
Austin is hoping that she and Pearce can bring back many of the library's traditional activities and events and restore a bit of normalcy.
"I'm hoping we can plan a book fair this year," said Austin. "We haven't had one for the last two years, so it will be nice if that works out."
The library is home to more than 24,000 fiction and nonfiction books and offers a comfy place to stay. Austin and Pearce welcome students before and after school or during a student's free period or lunch.
Pearce, for one, is looking forward to seeing students walking through the library's doors.
"It was very quiet and lonely during the pandemic last year," said Pearce. "I love seeing the excitement and joy on students' faces when I tell them the library is open!"
Before settling in, students are expected to sign in on a log-in sheet located on the front desk, noting their name, reason for visit, and the time.
Along with regular circulation services, the library is also providing loaner Chromebooks and chargers to students who may have left theirs at home. For those having technology issues, the library staff is available to help resolve many Chromebook issues without having to send them off to the district's technology department.
The library also offers assistance in setting up an Aeries account, printing papers for 10 cents a page, and resetting a password for an account.
Leave a Comment
About the Contributor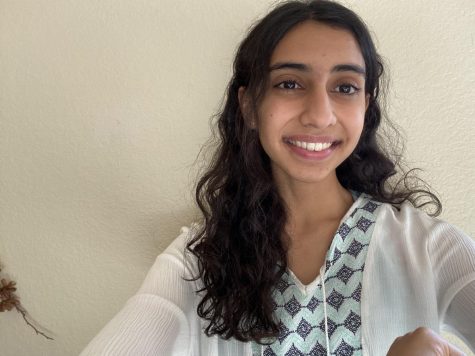 Simrin Khara, Editor-in-Chief
Simrin is in her junior year and is excited to be a part of the Blockbuster for her third year. She is a student-athlete for the Burroughs varsity softball...