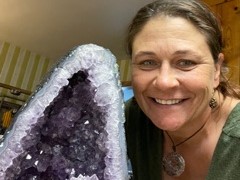 Laurel Wilcox (Science)
What is your educational/professional background?
I have an associate's degree in Geology from Saddleback Community College in Mission Viejo, a bachelor's of science in Earth Science (emphasis in Geology) and minors in Geology, Geography, and Anthropology from Cal Poly San Luis Obispo, and a master's of science in Agriculture (emphasis in education).
Before coming to Burroughs, I worked from 2007-2017 for the Tracy Unified School District in Agricultural Sciences (FFA) and Earth and Environmental Sciences, from 2017-2019 at Lone Pine High School, and from 2020-2021 at Murray Middle School.
What are you looking forward to about this year?
Renewing a vigorous Earth Science Program. "Rocks aren't just for "Jocks.'"
What do you like about your subject?
EVERYTHING!
When you aren't teaching, what do you like to do for fun?
Arts and crafts, garden, hike, fish, and float.
What is your favorite movie?
"Star Wars" (the older ones), "Indiana Jones," and "Gladiator."
What would surprise your students to know about you?
I'm really quiet and almost shy outside of school.