Review: "A League of Their Own" brings an uplifting and comical movie experience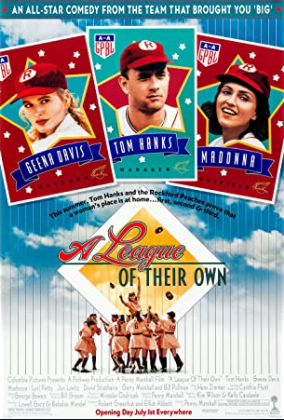 "A League of Their Own" is an uplifting classic that empowers not only young girls and women, but all viewers. 
Taking place in 1943, this movie follows the Rockford Peaches baseball team and their coach Jimmy Dugan (Tom Hanks) as they participate in the first all-girls professional baseball league in order to keep spirits high during World War II. 
At first, I was hesitant to watch this movie. My dad recommended it to me, and he is known to quote nearly entire movies in order to make you watch it. So, after him nearly spoiling it on multiple occasions with his excessive quotes, I decided to give it a shot. 
I was pleasantly surprised by this movie. It was witty, heartfelt, and made you feel as if you were part of the team (literally!). I found that my favorite scenes in the movie took place on the bus as the team traveled to different stadiums, not only for the humor, but for the way they were filmed. The technique used made it seem as if you were glancing over at the seats behind you and listening in on the conversations of the other characters. 
While this movie has underlying themes of doing anything you put your mind to, with the specific target audience of young girls and women, it didn't feel forced. I find that many popular movies within the past few years are made to empower the female audience members, it feels very forced and disingenuous. Instead of feeling inspired, I feel as if they were just keeping up with the current trends. However, this was not the case with this film. Instead of piling on "empowering" moment on top of empowering moment, they simply showcased a group of women who enjoyed the sport they were playing and wanted to show how good they were at it. I found this to be a lot more effective at conveying the theme and message of the movie. Instead of constantly discussing the need to inspire and empower, it came naturally alongside the film. After finishing the movie, I felt like joining a traveling baseball team, but promptly remembered that I'm not good at baseball. So, this film had a powerful influence when conveying its theme. 
Another detail that helped convey an inspiring message was that this movie was loosely based on an all-women's professional baseball league that was created around the same time that this movie took place. I felt that the movie felt even more realistic since the women in the league in real life likely faced similar challenges and achievements. 
Overall, I found this movie to be uplifting, inspiring, humorous, and an all-around enjoyable feel-good movie. Through their filming techniques, natural integration of the main message, and incorporating a true story, "A League of Their Own" is a great option for anybody who likes baseball, or just wants an easy-to-watch film. 
I am very glad that my dad recommended this movie to me (even if he practically quoted the entire film before I watched it), and in turn, I highly recommend this movie to viewers of all ages. It is a classic that will quickly become a fan favorite!