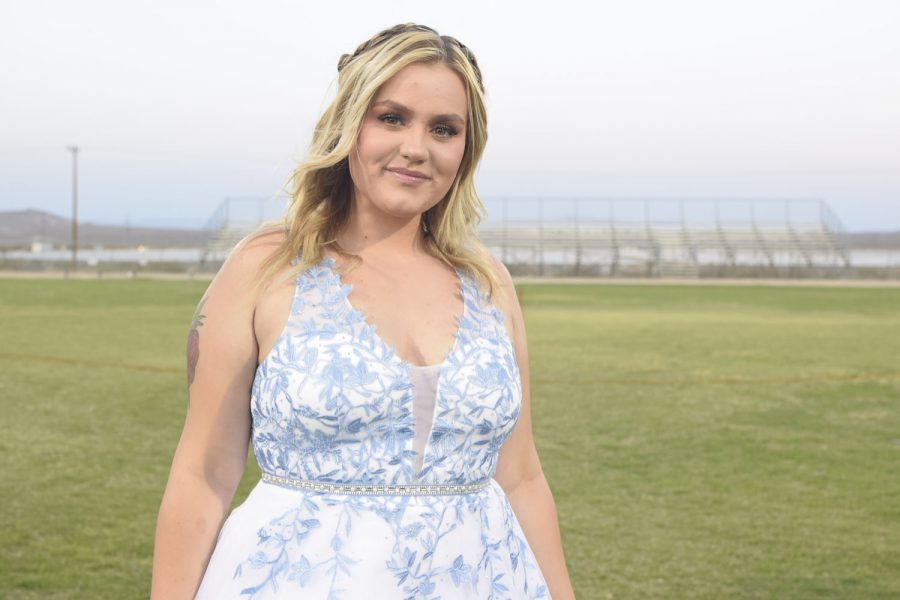 Sierra Wood
Describe yourself in 3 words:    
I would describe myself as outgoing, compassionate, and sassy.
How do you define success?
I would define success as achieving personal goals and working hard for what you want.
Favorite thing to do in Ridgecrest or the surrounding area?
I love going off-roading with friends, or even just being out in the desert sun!
Favorite Movie? Why? 
The Last Song. It's really shown me we have so much to be grateful for, but don't usually appreciate until it's gone.
Favorite school subject? Why?
My favorite "school subject" is English, I've always been pretty good at it and never had to stress about getting a good grade in the class.
Most embarrassing or unforgettable (pick one) moment at BHS?
The most embarrassing thing that's ever happened to me at BHS is, my junior year there was a "snack day" for ASB and I brought 3 two-liter bottles of soda. Sadly, I dropped 2 of them in the parking lot during the passing period and they exploded… right in front of everyone. The inside of my car is still stained to this day.
What will you miss most about BHS?
I will miss all the dances and rallies, I always had so much fun and loved being around all my friends.
Who do you look up to the most? Why?
I will forever look up to my Auntie Sis. She was the most kind hearted and angelic woman to have ever walked the earth. I am eternally grateful for the beautiful memories and time I got to spend with her.
What are your plans after graduation? 
I have undecided plans, I will either attend Cosmetology School or join the CNA program.
What would you do with $1 million dollars? 
If I had $1 Million dollars I would create a college fund for my little brother Jesse, and give some of the money to each of my parents for financially supporting me.