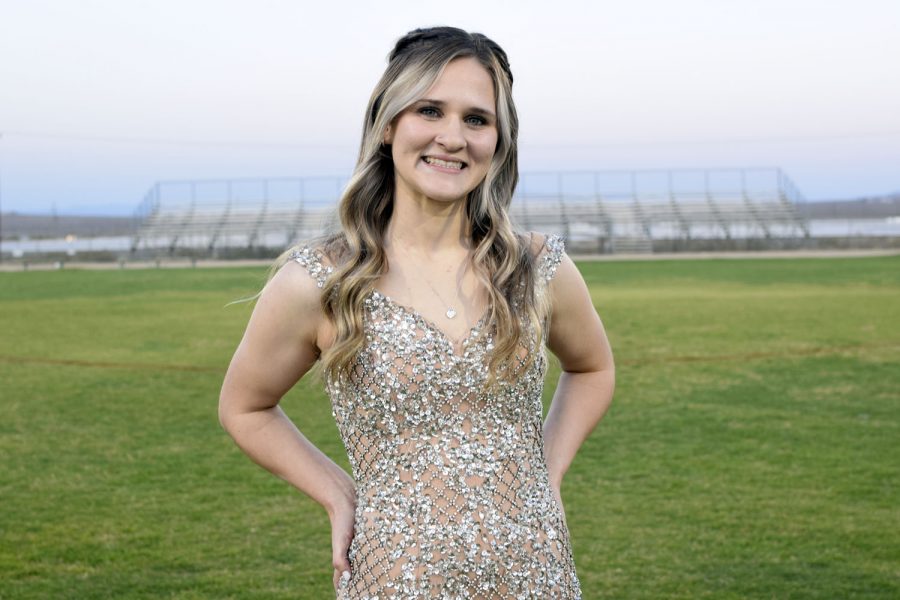 Kaylie Goeppinger
Describe yourself in 3 words:
Funny, caring, and determined.
How do you define success?
I would define success by when you reach your goals.
Favorite thing to do in Ridgecrest or the surrounding area?
Go to Marshalls, lol, because she loves a good sale/discount.
Favorite Movie? Why?
I would have to say "Safe Haven" because I love Juilenne Hough or "The Kissing Booth" because I love corny love movies. 
Favorite school subject? Why?
I liked Algebra freshman and sophomore year because Mr Ortiz taught it well, for some reason math was easy to understand, but I don't really like math to be honest. 
Most embarrassing or unforgettable (pick one) moment at BHS?
The most embarrassing moments in highschool would have to be falling in stunts when I was not supposed to. 
What will you miss most about BHS?
I will miss the non stop laughing with my friends in the classrooms and through the hallways. I will also miss cheering under the Friday Night Lights with my bestest friends.
Who do you look up to the most? Why?
I look up to my mom the most. She is my best friend and is constantly there for my siblings and me. Also she has been the biggest help with raising my daughter, Ellie, and I could not be more grateful. Thank you for always laughing with me and making sure everything will be okay. I love you mom.
What are your plans after graduation? 
I plan to go to Cerro Coso and continue to get my 4 year degree. I'm not sure what I want to major in but maybe a teacher or nursing.
If you could have any animal (real or imaginary) as a pet, what would you pick?
An animal that doesn't poop or pee and sleeps and plays without a mess. 
What would you do with $1 million dollars? 
Save it bc I'm stingy with my money lol but probably do a lot of shopping too. 
What is the most unusual hobby you have tried?
I tried to collect coins when I was little and I don't know if that is unusual but it didn't work out for me lol. It was boring.