AP Chemistry experiments with in-person labs
In the words of AP Chemistry teacher Dr. Erin Duez, thank goodness for California weather.
Determined to give her students hands-on laboratory experience,  Duez has moved the classroom outdoors and off camera, allowing students to meet in small groups for a handful of labs this spring.  Labs are held in the patio area between D and L halls. 
Duez said she began asking about in-person labs back in September, but state safety guidelines for school districts were unclear.
"After winter break when state guidelines became more clear, I was able to work with district administration to make in-person labs a possibility," said Duez.  She can now demonstrate concepts to her students without the difficulties of online learning.  Due to the guidelines, she can only do a few labs for the school year because she can only meet with 15 students at a time.
"So the first rounds of labs focus on acids and bases. These two labs were selected because Acid and Bases make up 15% of the curriculum, and last year sophomores in chemistry were not able to do any in-person acid/base labs because we were sent home right before the unit," said Duez. "I want to make sure all students had experience with titrations.  Our next two labs will focus on electrochemistry and gravimetric analysis."
Duez's goal for the entire year has been to prepare her students for the AP exam. Before she began in-person labs, she had been conducting video labs with questions online to try to replicate the experience.
"Students were doing Pivot Interactive labs online. They were also doing some labs at home with basic materials such as thermometers, pennies, water, etc.. The students who are not able to join us doing in-person labs will do Pivot alternatives instead."
Duez says the students she had on her first days of in-person labs appeared to be having fun and learning as they did the labs.
"It has been wonderful to finally have in-person labs again," said Duez. "I wish we could have labs every day.  During the in-person labs, I hear students talking and laughing as they figure out the titration. Chemistry should always be fun. The equilibrium calculations make sense when you can see the reaction in person."
Junior Avery Vigneault is one junior who appreciated the opportunity.
"It was so exciting getting to go back to school, even just for a short period of time, and it definitely brought me some relief from on-screen learning," said Vigneault. "It was so nice to be taught in person for even just a short period of time. The material is still difficult, but attending the labs was definitely a good way of providing clarity for me during times when the way we have been learning has been so foreign."
Leave a Comment
About the Contributor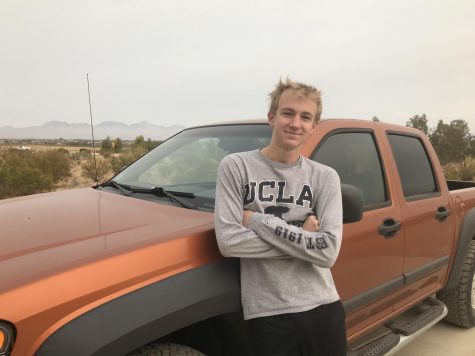 Canon Rank, Page Editor
Canon is a senior at Burroughs for Blockbuster Blast. He is a part of Friends of Rachel and the soccer team for Burroughs. This is his second year as a...