Foshee explores virtual extracurricular opportunity related to health careers
For some students, the biggest motivating factor in school is participating in a club, sports, or other extracurricular activities. The pandemic has made this difficult this year, but after exploring potential opportunities, freshman Keith Foshee earned a nominating to attend the "Congress of Future Medical Leaders."
Foshee found out about the opportunity through CollegeBoard.com.
"When I inputted my information about wanting to become a doctor and the colleges of my preference, they gave me a survey about my high school goals and GPA," said Foshee. "After that, I got nominated to attend the event." 
This year, the event will be held virtually over the course of three days. Previously, the Congress has been held in Boston, Massachusetts, so Foshee prefers the virtual option. 
 "Because it's online, this year's nominees can save the transportation and hotel fees and still enjoy the amazing talks and conferences from renowned doctors all over the U.S. and the world," said Foshee. 
Foshee will be attending the event early in the morning because the Congress is on Eastern time, and several sessions are planned for each day. After each session, he and other students will get an opportunity to ask questions and give their opinions. Eventually, all attendees will take an assessment encompassing all the information from the Congress and  receive a certification of attendance. The certificate can be mailed to colleges to enhance students' college applications. 
Since Foshee wants to go into Family Medicine or Psychiatry in the future, finding an event similar to his future visions was important to him. 
"I also realized that there are no other clubs or organizations for students who are interested in health careers, so I jumped at the opportunity to be a part of this congress," said Foshee. 
More options are available on CollegeBoard.com, and Counselor Stephanie Bailey recommends looking through californiacolleges.edu and  roadtripnation.com/edu/careerfinder. 
"My best advice for students would be to do some research for what your particular interests are," said Bailey. She also recommends finding college classes that someone can take for fun. 
"Even though you won't be able to get high school or college credit for taking them, you can mention that you took them on college applications and admissions essays, which can help you stick out above your competition," said Bailey. 
Foshee's opportunity shows that even though the pandemic has made in-person extracurricular activities limited, students can gain information by researching online and seeking help from their counselor in order to find the best resources. 
Leave a Comment
About the Contributor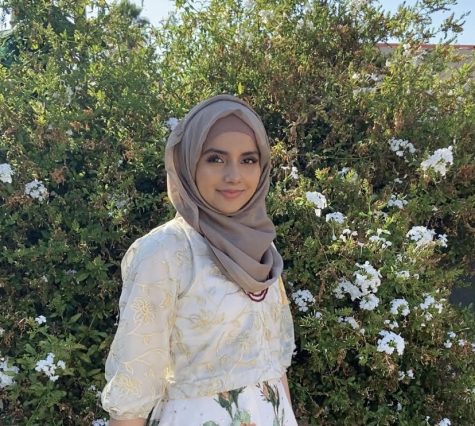 Mahnoor Ahmad, Editor-in-Chief
Mahnoor Ahmad is a senior at Burroughs High School and this is her fourth year writing for the Blockbuster. She's involved in activities such as Interact...