Essential student workers get the job done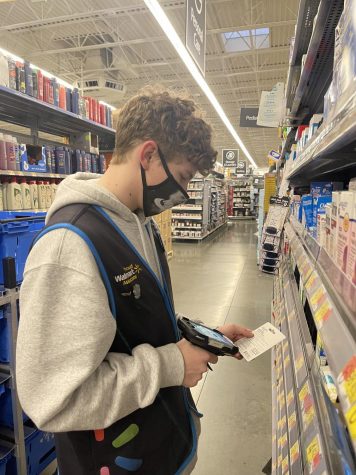 As high school students get older and want to start making money, they look to trade in a weekly allowance or babysitting money for something more substantial. Under normal circumstances, this would typically mean getting a part-time job at one of Ridgecrest's many service industry businesses.
The COVID-19 pandemic has changed this dynamic somewhat. While students find themselves with more free time to get a job, fewer jobs are to be found. 
COVID 19 has made it so that some people are out of their jobs or working from home. While several adults are in the job market looking for new employment, several students are as well.
Matt Benson, a senior this year, moonlights at Walmart as an Online Grocery Pickup employee. Benson had some good insight on what working for a big corporation during a pandemic is like.  
"Working during a pandemic is alright," said Benson. "Wearing masks sucks since you can't understand people sometimes but it's okay making money."
Overall, teen essential workers are doing the same work as an adult essential worker:  the struggle is finding the jobs.  Job loss has risen since the pandemic, leaving adults at risk of losing their possessions if they can't find jobs. The competitive job market is now even more competitive between adults and teens. For some, the answer means getting creative. Rather than working at a big corporation, senior Grace Cannon has thrived by making her own business as a photographer. She created an Instagram account to showcase her work called @gracecannonphotography.
"As a photographer, it's easier to make my own hours and have some more free time," said Cannon. "But one downside is that sometimes my clients get sick and have to cancel due to COVID."
Although working is difficult in times like this, people who stick with it are forced to find positives that make it worth it to keep working. Until COVID numbers improve across the county and state and restrictions lessen, students will continue to make the best of a challenging situation.