Art students design merry messages
Students in Teacher Holly Hodgson's art classes are chasing away any winter blues with their talented entries in the first annual Holiday Card Creation contest.
Submissions were received from all of Hodgson's classes, from beginning Art I to Drawing and Painting.
"I decided to do the contest because I feel it's a priority to share the students' creative endeavors with the community, especially during these times of isolation," said Hodgson.
The cards were judged on creativity, technical skill, lettering (font and placement), use of color, and uniqueness of composition.  Winning cards were created by Leila Finney, Kailee Derryberry, Ada Stone, Adamari Oyervides, Alan Winterley, Naomi Sampson, McKenzie Klissus, Isabel Kidner, Rylee Starkey, Emily Wetzel, Jordan Loughlin, Trinity Pimentel, Juleeanna Munoz, Deanna Duck, Kline Mercado, and Emorie Mogle.
"I plan on doing more to share student artwork with the school and district community next semester, with mini virtual art shows and perhaps more art contests," promised Hodgson.
Leave a Comment
About the Contributor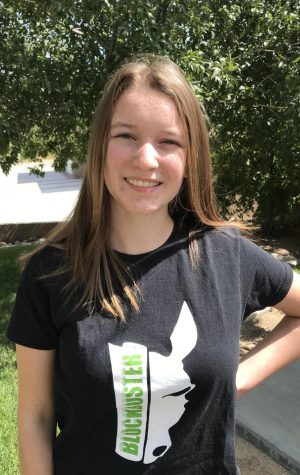 Annika Houck, Editor-in-Chief
Annika is a senior and has just begun her fourth year on the Blockbuster staff. She is enthusiastic about her academic career and has been taking college...