Grab your documents… FAFSA is open!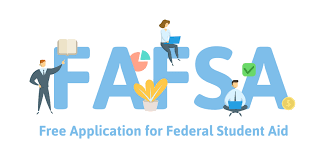 Starting Oct. 1 the 2021-2022 Free Application for Federal Student Aid — commonly known as FAFSA — is open for all people looking to go to college next fall semester. This application can help students and their families pay for college.
The United States Department of Education awards more than $120 billion in federal grants, loans, and work-study funds, according to a recent Federal Student Aid annual report. This aid will assist around 13 million students continuing their education after high school. 
Although the FAFSA can sound like an easy way to get free money to go to college, completing the application can be a confusing process for many students and families. A dependent student will not only need to enter all of their information into the FAFSA application, but they will also need their parents' information on the form.  
The FAFSA application can be filled out in three different ways: on the computer, on paper, or with a cell phone. FAFSA decided to allow applications to be filled out on cell phones to help families who cannot access a computer from home. 
If students are completing the FAFSA form online at fafsa.gov or through the myStudentAid mobile app and their parents filed their income tax returns with the IRS and they meet certain requirements such as having Social Security numbers, they may be able to access their tax information through the IRS Data Retrieval Tool.
The FAFSA website at studentaid.gov highly recommends creating an FSA ID as a first step. 
According to the FAFSA website at studentaid.gov, "Creating your FSA ID before you begin the FAFSA form only takes a few minutes and could prevent processing delays. Plus, you can't use the myStudentAid mobile app at all without an FSA ID, so you'll need to create it before filling out the FAFSA form on the app."
The FSA ID will be used throughout the application process in place of a signature. To get the ID, you need key information, including your Social Security number (SSN), date of birth, and your name as it appears on official documents. Students who plan to go to college and their parent will need these IDs. However, students whose parents do not have a Social Security number may still complete a FAFSA. Parents' citizenship status doesn't affect students' eligibility for federal student aid. In fact, the FAFSA form doesn't even ask about parents' status.
Also, students who are considered independent students do not need to provide parental information. Those who qualify for this status include those who are married, a veteran or a current member of the armed forces, an orphan, an emancipated minor, a homeless youth or at risk of being homeless, a parent who provides more than half of the financial support for a child or dependent, or a recipient of foster care. 
The FAFSA application will ask for a quantity of information to determine how much aid is needed. There will be questions about income, assets, and demographic factors. A student filling out the form will need a social security number, driver's license number or state ID, tax information, records of untaxed income, current bank statements, investments, and a list of schools the student plans on applying to. 
The magic number at the end of the application is the EFC, or the expected family contribution. This number will determine eligibility for federal student aid. With this information, a student will be able to discover if he or she qualifies for grants, such as the Pell Grant. 
Just because a student feels their family will not qualify for any aid does not mean they should not fill out the application. Even families with higher incomes may qualify for some type of aid, since no specific cut-off exists. They could qualify for support such as work-study or even receive a federal loan which would help a student have a lower interest rate as they pay their schooling money back. 
Although it is only the beginning of the application window, students should not wait to fill out their application. This is because they could miss out on grant money if they do not submit it before their school's priority filing deadline. Some could be as early as the end of the year so do not hesitate to get started now. 
The high school and Cerro Coso do offer FAFSA workshops for students and their families. These events are typically announced via ParentSquare, through the Counseling Office, or in the Blockbuster.