This simple banana bread will become a fan favorite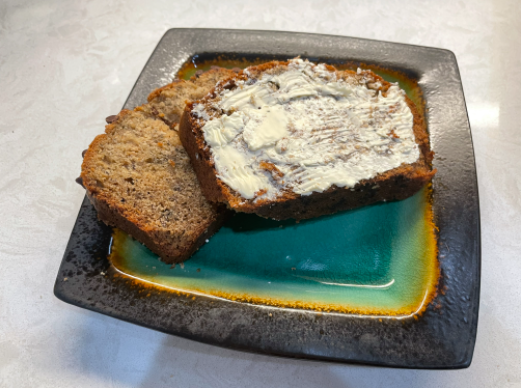 Every week for as long as I can remember, my family buys a bunch of bananas with the hope that they will get eaten. But, it never fails that those bananas go untouched, turning from yellow  to brown as the days pass by, until they eventually reach a disappointing end in the trash can.
After deciding as a family that our new year's goal would be to waste less, I was determined to apply this to those untouched bananas. So, as those bananas once again turned brown, I made the only recipe I know that would let them shine: banana bread! 
Banana bread is one of the easiest ways to get rid of old bananas, and turn them into something delicious! It takes just a few minutes to put together, and works great as a snack, breakfast, or dessert. 
Along with being a versatile dish, you can also make it your own! This recipe only calls for cinnamon and found it to be too bland, so we like to add in some nutmeg and pumpkin pie spice to enhance the flavor. If you want the bread to lean more toward the dessert side, add some chocolate chips. If you want to make it a little healthier, use some popular sugar substitutes, like applesauce. You can also change how you bake it. It could be in a loaf, in a muffin tin, or even in a round cake pan. The possibilities are endless! 
After trying many different recipes, we found that this recipe was the best by a landslide. It was moist, dense, had just the right amount of sweetness, and froze beautifully (though it doesn't normally last long enough in our house to make it to the freezer). 
Whether you make it for a friend or yourself, you truly can't go wrong with this recipe! The next time you see your bananas turning brown, put on your apron and make a batch of banana bread! 
Find the recipe for the banana bread here.