Public vs. Private – Which Virtual Learning Experience is Better?
When students are off campus, is there really a difference in the quality of education?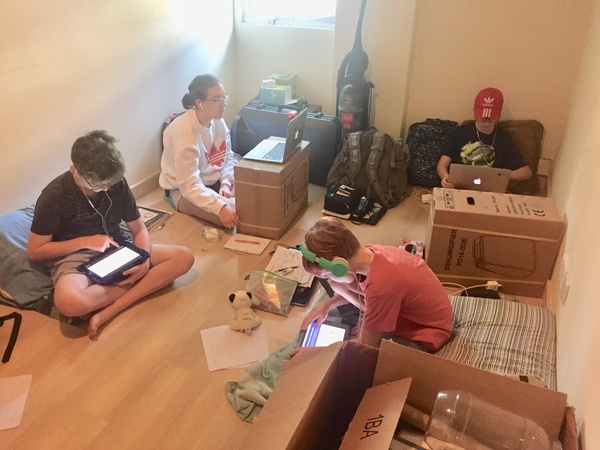 Switching from one virtual school to another has been one of the more difficult challenges that I have faced this year. When we first started feeling the effects of COVID-19, I was living overseas and attending a private American school that has now resumed on-campus learning. Over the summer, I moved to Ridgecrest and returned to public school. I have attended virtual learning with both campuses and have learned the difference the schedule can make.
After attending each school virtually for about the same amount of time, I notice that both schools have very similar ways of teaching online.
The main difference between Singapore American School (SAS), the private school, and Burroughs is the device given to students to learn virtually. At SAS, students in high school and middle school are given MacBooks. At Burroughs, all students are given a Chromebook. While SAS textbooks are all online, at Burroughs students use a mix of physical textbooks and online resources.
For the most part, though, the tools that teachers use to educate students are the same. I've used Gizmos, watched exercise videos on YouTube, and attended classes via Zoom with both schools.
Student support has also been comparable. I have been able to contact counselors and ask questions during help sessions outside of class while attending both public and private schools. At both SAS and Burroughs, I have never felt a lack of support for the students.
However, while SAS and Burroughs have similar resources, their scheduling is different.
Without school buses needing to beat the morning traffic, the virtual school day at SAS starts at 9:15 a.m. and ends at 3 p.m. compared to their traditional 8 a.m. to 3 p.m. schedule. At Burroughs, the virtual school day for most students starts at 7:45 a.m. and ends at 2:15 p.m., ending 30 minutes earlier than normal.
While students attending both Burroughs and SAS have the chance to get extra sleep due to the lack of commute during virtual learning, weekly surveys sent to SAS students show that stress levels reduced significantly due to the later start time. Additionally, Burroughs and SAS  handled their breaks throughout the school day differently. At Burroughs, students get one 50-minute break to attend Distance Learning Support if necessary, and one 50-minute lunch break. At SAS, students get an hour-long lunch break and smaller 10-minute breaks throughout the day. This provides students with time to catch a quick break from their computers in between classes.
Perhaps most significantly, during virtual learning, students at SAS start and end their day with classmate interaction.
In middle and high school, students are assigned to an Advisory group, with 12 students and a teacher. At the start of each school day, those 12 students interact with each other for about 20 minutes before the daily classes started.
When SAS went virtual, this didn't change. Students attend an advisory Zoom call at the beginning and end of the day so that they still get some social interaction. We played simple games that often involve solving riddles and scavenger hunts with items found in a virtual learning space. Although many of the students weren't close friends, Advisory provided students with a sense of consistency as they see and get to know each other throughout the sessions, whether it be in person or virtually.
At Burroughs,we don't have this, but we still get to interact with people in breakout rooms and through group projects.
If I could choose which school to attend for virtual learning, I would have to choose SAS. Not because I feel the quality of education is better, but for the schedule instead. I like having shorter breaks throughout the day to get away from screens and starting later in the day.
Being a morning person, I felt more productive because I was able to accomplish tasks both in the morning and evening instead of having to cram my daily tasks after school. I also enjoyed the social aspect as I got to regularly interact with familiar faces during the Advisory sessions.
Neither experience has been negative. Although distance learning is a bit less engaging, especially in more hands-on subjects, I do not dread logging onto my daily Zoom calls.
Furthermore, I do not feel that virtual learning inhibits my ability to learn or decreases the quality of education that I am receiving. In the end, I think that we will all eventually come back to campus as smarter and adaptable students.
We all deserve a pat on the back for doing our best to keep a global pandemic from standing in the way of our education.
View Comments(1)
About the Contributor
Sophia Pendergast, Editor-in-Chief
Sophia is a senior and is in her fourth year of Newswriting.  After living overseas for four years and traveling to six different countries, she has developed...